Free Lowrance Software - Works with your GPS!
EasyGPS GPS Software for Windows works with all of these Lowrance GPS models:
Click your Lowrance model family name below.
Lowrance HDS, Lowrance Elite, Lowrance HOOK, Lowrance Mark, Lowrance iFinder, Lowrance LCX, and Lowrance LMS GPS.
All other Lowrance GPS receivers, GPS chartplotters, and fishfinders.
EasyGPS is the fast and easy way to upload and download geocaches, addresses, waypoints, routes, and tracks between your Windows computer and your Lowrance GPS. Use EasyGPS to back up and organize your GPS data, print maps, or load new waypoints onto your GPS for your next hike or geocaching adventure.
EasyGPS works with every popular handheld GPS receiver, and it is 100% FREE!
Download EasyGPS
EasyGPS runs on Windows computers.
New features were added to EasyGPS 7.08 on March 21, 2019
Get the world's #1 free GPS software...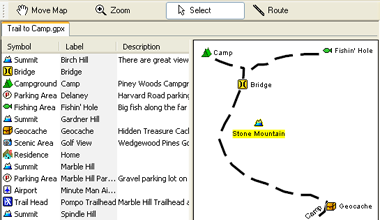 EasyGPS is 100% FREE software! No ads or spyware
Download geocaches to your GPS
Backup and print out your waypoints and tracks